Dorthey Star [Contact]
Real name:
Amanda
Registered:
Jun 09, 2004
Membership status:
Member
I'm a student at the University of Arkansas who loves reading and MUSIC. I've gotten out of the HP fandom for the most part, but hopefully I'll get into it once again soon. I love meeting new people. Feel free to talk to me on either AIM or MSN, just let me know that you're from here. :)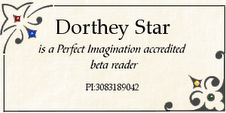 http://perfectimagination.co.uk/index.php
Draco goes with Ginny over the Christmas holiday to the Burrow. During or Post-Hogwarts, your choice.
Category:
Completed Short Stories
Rating:
Not Naughty
Characters:
None
Compliant with:
None
Era:
None
Genres:
Romance
Warnings:
None
Completed:
Yes
Series:
None
Table of Contents
Chapters:
1 |
Word count:
1432 |
Read count:
2093 |
Published:
Dec 02, 2004 |
Updated:
Dec 02, 2004
[
Report This
]
When Ginny completes her fifth year at Hogwarts, she is whisked off to Romania to stay at Hydes, the dragon reservation, where she finds none other than Draco Malfoy. Talents are discovered and friendships are forged.
Category:
Long and Completed
Rating:
Not Naughty
Characters:
None
Compliant with:
None
Era:
None
Genres:
Romance
,
Action
Warnings:
None
Completed:
Yes
Series:
None
Table of Contents
Chapters:
11 |
Word count:
32004 |
Read count:
28770 |
Published:
Jun 09, 2004 |
Updated:
Jun 10, 2004
[
Report This
]